How far do you want to go?
Learning about design and tailoring is a life-long journey. And it has to be structured! These are the five steps we have created especially for you. Read more
Fashion, Bespoke, Couture…
Our specialty is taking old-school qualities and values, and bringing them into today's reality. Your reality!
Are you an absolute beginner? Or more advanced and experienced within your field? We can help you understand complex routines, take some of that work load of your back, or maybe just inspire you to reach new and exciting goals?
Contact Alexander@StenMartin.com and tell us what you need.  We will guide you through the process, and answer all your questions.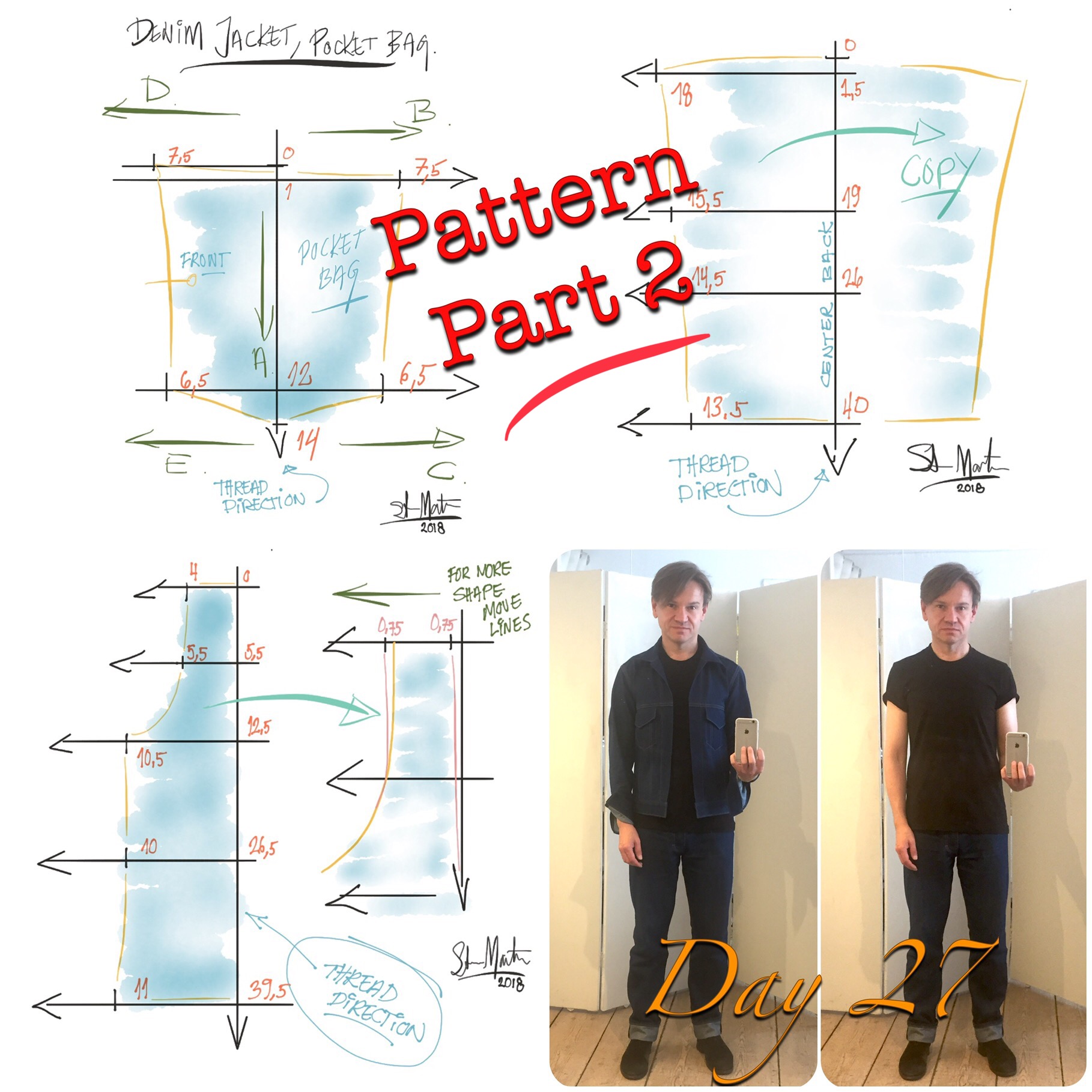 How did it go yesterday? Did you finish those two pattern pieces? Great! So let's continue our pattern-making!
Remember that the pattern-pieces we have to make for this denim jacket are quite many. Actually fourteen of them! Here's a list…
Top Center Front and Facing
Lower Center Front and Facing
Front Panel
Side Front
Pocket Flap ✔
Pocket Bag
Yoke ✔
Center Back
Side Back
Top Collar
Under Collar
Top Sleeve
Under Sleeve
Cuff
Two of them we already made yesterday. The Pocket Flap and the Yoke. Here are three more!
When lways start with your vertical center line (A), which also works as the thread direction. Then place the measurements on that line, starting at the top with 0 (zero) and going downwards, here with 1 cm, 12 cm, and 14 cm continuously.
Draw lines to the side, both left and right, and also place measurements here. And finish off with drawing the outline of the pattern piece, going from mark to mark, preferable using a ruler. All done! Time for the next one!
Here's the center back. It's practical to just draw half of the pattern piece, and then fold the paper and copy the first side over to the other side.
Remember that the shape of these sketches are not accurate. They just show how to make it and suggests the shape for you. Knowing that, you can use the same sketches for different sizes by just alternating the numbers in the drawing. So make sure you don't expect the exact same shape – just something similar.
Finally the Side Back! Her you can alternate the pattern for a rounder back if you'd like. Just re-shape the top of the pattern piece somewhat, by shifting it slightly to the left. In that way you'll creating a hidden dart in the seam when stitching it together with the center back piece later on. It's up to you if you want to use this alternation or not.
Good luck with the pattern pieces! Above is today's project combination. See you tomorrow for more construction drawings!
– Sten Martin / DTTA
__________
If you enjoyed this content, feel free to support us by sharing this article, subscribe to one or two of our different platforms with informative content on tailoring and design, or, by just donating a sum. As a small independent company, we're always greatful for your support! Read more
Alexander@StenMartin.com
+45 28 30 64 95
Alexander will answer all your questions about us being a partner in your evolvement within the luxury garment production area. Feel free to contact us!